From Weeds to Warrants: ParcelQuest for Law Enforcement
There is so much they leave out of the weeknight cop shows. There's always plenty of drama between the hard-nosed detective and his bright-eyed rookie partner, but never any attention to all the paperwork that has to get filed.
Nobody ever shows all the time spent filing for warrants, filling out police reports, and poring over property ownership records and other public records. And they definitely never stop to say, "Wow, thanks to this up-to-the-minute accurate parcel data, we were able to crack that case!"
Hollywood, amiright?
But you know better. You know first-hand what it's actually like to work in the Sheriff's office or as part of the HIDA program. You know the triumphs and the tragedies and the paperwork shuffle slog. And you know how ParcelQuest is California's best data source to turn to when you need up-to-date ownership information for your investigation.
…Right?
Catching Bad Guys with a Little Help From the County Assessor
When you need to verify the owner of a piece of property, it's vital that the information you're working with is up-to-date and accurately sourced, and that you can document that source with confidence. One mistake can undo all of your efforts or even destroy an investigation. That's why we get our parcel boundaries and owner information direct from the county assessor's office, never an off-shore data entry operation.
Once you're logged in to ParcelQuest, you can search by owner, APN number, or within custom-drawn boundaries. Since there are multiple ways to locate parcels in our state-wide database, it's simple to find all of the properties owned by a single individual, which can be a boon for building a case.

Our integrated Google map displaying the ParcelQuest maintained parcel layer is helpful, too. If you're investigating a potential illicit marijuana farm or planning a bust at a suspect's property, you need to be absolutely certain who the owner on record is. But you'll also need to know who owns nearby properties that you might need to cross through, and where all the roads and access points are.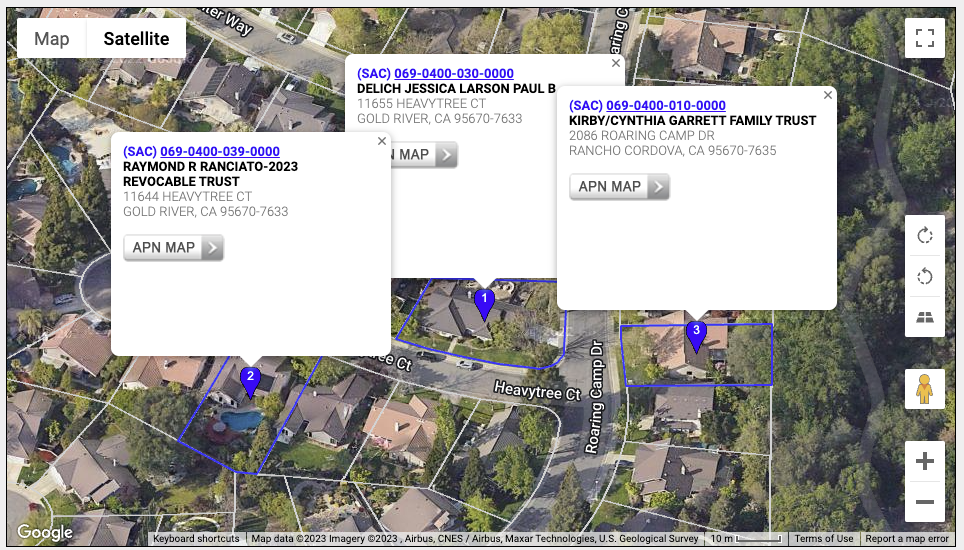 How Else Can Law Enforcement Use ParcelQuest?
We're happy to figure out the perfect parcel data solution for any state or local agency, and that includes fire, law enforcement, code enforcement, and anybody else with a uniform and a mighty need to know parcel boundaries and ownership records.
Are you working in fire or code enforcement and need to send out mass notices for a certain neighborhood, or identify owners within a custom area so you can send weed abatement notices? After a fire, do you need help sorting out which property belonged to who and where the boundaries are so you can aid the forensic investigation?
We're got you covered for all of that, and anything else you can think of that requires California parcel data. Logging in to access what you need is a lot quicker and simpler than driving down to the assessor's office. Even sorting through information on the county's website is a chore. ParcelQuest gives you what you need to get on with your day – so you can spend a little more time doing important stuff, and a little less time drowning in paperwork.
For inquiries about ParcelQuest (parcelquestions, if you will) or to get help getting started, call us at 888-217-8999. Or, if you're ready to get started, you can sign up online right away.